Hebrew Date – Month 12 Day 18 Jerusalem Dew Point 41 Psalm 18:3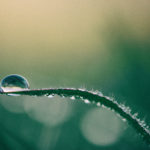 12 is Governmental perfection.
18 is Bondage,  Life more abundant.
41 is 40 & 1.
40 is Trials,  Testing,  Probation.
1 is Unity.
(All I need to do is call to you, singing to you, the praiseworthy God.  When I do, I'm safe and sound in you.)
When we call upon the Lord, we are calling on the one who is praiseworthy to be the one to govern our path.
By following him we will experience a life that is full an abundant.
Even when we are going through trials and testing here on earth we are still safe and sound in him.
Allow for your spirit, soul and body to experience a type of unity by calling out and singing to the one who is praiseworthy.
I put my faith, hope, and love in the Lord.
The dew was mentioned 36 different times in the Bible.
11 times a word from heaven.
9 times as a sign.
6 times as a blessing or favor.
4 times as an answer to a question.
3 times on the ground with manna.
1 time as knowledge.
1 time as a question.
1 time God speaks through the dew. This is where Hisdewreport came from.
On this day what is God saying to you?