Hebrew Date – Month 11 Day 29 Jerusalem Dew Point 41 Psalms 135:19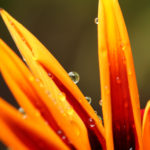 11 is Judgement, Disorder, Heroes rising.
29 is Departure.
41 is 40 & 1.
40 is Trials, Testing, Probation.
1 is Unity.
(Praise Lord, Yahweh, all the families of Israel!  Praise Lord Yahweh, you family of Aaron!)
Let the hero inside you rise up and praises the Lord.
People of the world are only focus on themselves, and what's in it for them.
People with a heavenly view see things differently, and this view is a departure from the world view.
When looking from heaven to earth, you see the complete forrest and where it is located.
When only looking from inside the forest you only see tree's.
Yes, we all go through trials and testing.
Even if it is the same trials and testing, what is different is how you see them within the big picture.  Is it from above the clouds or is it within the storm.
 For me I choose to sing with the angels from above.  I do try to sing in unity with them.  There are times I am singing out of tune.  At least I am singing. 
The dew was mentioned 36 different times in the Bible.
11 times as a word from heaven.
9 times as a sign.
6 times as a blessing or favor.
4 times as an answer to a question.
3 times on the ground with manna.
1 time as knowledge.
1 time as a question.
1 time God speaks through the dew. This is where Hisdewreport came from.
On this day what is God saying to you?