Hebrew Date – Month 2 Day 23 Jerusalem Dew Point 42 Psalm 45:13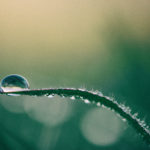 2 is Union, Division, Witnessing, Set apart, Manifest power.
23 is Death.
42 is Lord's coming (1st & 2nd) Israel's opposition,  1st advent.
(As the princess-bride enters the palace,  how glorious she appears within the holy chamber, robed with a wedding dress embroidered with pure gold!)
When we are set apart for him not only can we wear clothes that have gold we will also be walking on streets paved with gold.
When we leave this world for the next, you will not look back at what you left behind except for the people that you loved.
What we don't know is will that time happen before the Lord's coming again.
Before that time comes a wise person would make their choice of whether they are going up or down before they leave this world.
I put my faith, hope, and love in the Lord.
The dew was mentioned 36 different times in the Bible.
11 times a word from heaven.
9 times as a sign.
6 times as a blessing or favor.
4 times as an answer to a question.
3 times on the ground with manna.
1 time as knowledge.
1 time as a question.
1 time God speaks through the dew. This is where Hisdewreport came from.
On this day what is God saying to you?