Hebrew Date – Month 5 Day 7 Jerusalem Dew Point 64 Psalm 147:4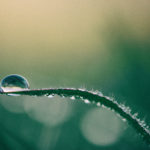 5 is Grace of God, God's goodness, Overcoming.
7 is Completeness, Father's perfection, Spirit of God.
64 is 60 & 4.
60 is Pride.
4 is World, Creation.
(He sets his stars in place, calling them all by their names.)
If he knows all the stars names.  He knows your name.
Stars are just a big rock on fire.  We are spirit, soul, and body created in the image of God.
Thus, the grace of God is extended to us and not the stars.
The Spirit of God is placed in each of us when we were created, even before we were given a name.
Don't let your pride get in the way of allowing God's Spirit to guide your spirit, soul, and body.
When you are going through a hard time, just look up in the night sky and see all the stars.  Our God created and named them.  But your name means more to him then there names.
Think about that when you are looking up at the night sky.
I put my faith, hope, and love in the Lord.
The dew was mentioned 36 different times in the Bible.
11 times a word from heaven.
9 times as a sign.
6 times as a blessing or favor.
4 times as an answer to a question.
3 times on the ground with manna.
1 time as knowledge.
1 time as a question.
1 time God speaks through the dew. This is where Hisdewreport came from.
On this day what is God saying to you?