Hebrew Date – Month 4 Day 8 Jerusalem Dew Point 57 Psalm 145:7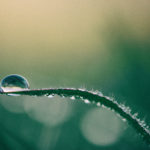 4 is World, Creation.
8 is New birth or beginning.
57 is 50 & 7.
50 is Holy Spirit, Pentecost, Jubilee.
7 is Completeness, Father's perfection, Spirit of God.
(Our hearts bubble over as we celebrate the fame of your marvelous beauty, bringing bliss to our hearts.  We shout with ecstatic joy over your breakthrough for us.)
When God's blessing fall upon you it is like heaven on earth.
When heaven and our place on earth are in unity with each other it is a start of a new beginning and expect a breakthrough in your life.
It is in these moments of time we are in the world but not of the world.
You will also find that when you are under the  protection and Spirit of God, you are blessed to witness the divine completeness and power of the almighty, and see the Holy Spirit in action.
Live your life for him and expect to have a new beginning and breakthrough when heaven and your place in the world are in unity with each other.  Amen.
The dew was mentioned 36 different times in the Bible.
11 times a word from heaven.
9 times as a sign.
6 times as a blessing or favor.
4 times as an answer to a question.
3 times on the ground with manna.
1 time as knowledge.
1 time as a question.
1 time God speaks through the dew. This is where Hisdewreport came from.
On this day what is God saying to you?